Ocho Rios Attractions
---
Fern Gully

One of Jamaica's natural wonders. A scenic three-mile uphill tour that winds through a rocky gorge, the gully has about 500 varieties of ferns overhung by tall trumpet and mahoe trees that meet overhead filtering the sunlight to create a cool rain forest condition in a tinged tunnel. This moist sheltered environment is ideal for ferns and has sub tropical Rain Forest conditions. Street vendors along the road sell carvings and T-shirts for souvenir lovers. At the top of the gully you drive into the local community of Colegate then through the community of Breadnut Hill with spectacular views of Ocho Rios and the coastline.
---
Dunn's River Falls

Without a doubt the most popular attraction in Ocho Rios and one of Jamaica's natural treasures. A 15 minutes drive from town, Dunns River Falls is internationally known as a living-growing phenomenon consisting of 600 feet cascading waterfall with several natural pools surrounded by dense forestry. At the bottom of the Falls is one of our best beaches where you can engage in water sports, or just bask in the sun while enjoying the scenery. There are restaurants, a craft market and restrooms conveniently located in beautiful surroundings. Climbing the fall is a wet but easily navigable ascent from its starting point on the beach and is quite exhilarating as you're showered with cool clear water all the way to the top (approximately 45 minutes). It's best to use a guide as he knows the safest spots will take care of your pictures and will help you enjoy the experience. We suggest tennis or aqua shoes for safety as well as comfort. At the end of the climb, you'll exit through the Craft Market where local vendors will help you find that special souvenir. Not interested in climbing? How about a picnic in the park or on the beach? Maybe you'd like to have your hair braided…hair braiding shacks are located in the park. Hungry? Have a taste of our spicy Jamaican Jerked Chicken, Pork or Fish from the restaurants or savor the taste of your favorite Baskin & Robbins Ice cream.
---
Shaw Park Gardens

Shaw Park Botanical Gardens which is 550 feet above sea level and located on the grounds of a former hotel boasts a stunning view of Ocho Rios. The Gardens are creatively planted, resplendent with unusual flowers, plants, trees and a near perpendicular waterfall. Stroll alone through the gardens or take a guide who'll describe the sights, scent and sounds for more interest.
---
Konoko Falls, Taino Museum & River Gardens

This is a beautiful, meditative river garden with well watered flowerbeds bisected by streams teeming with mullet, crayfish, turtles and koicarp. Stroll leisurely and enjoy the beauty while feeding the fish or take a guided tour. Wooden walkways allow you to view the flowers in all their beauty…anthuriums, heliconias, pink ginger lilies and rampant vines. Reflect on our history with a stroll through the Arawak Indian museum and see exhibits and artefacts spanning a part of Jamaica's history. Visit the on site gift shop for craft and jewellery. In addition to learning about some of Jamaica's flora and funa, you can also learn about the Taino Indians and get a great view of Ocho Rios.
---
 Propect Plantation

Riding is available at a cost. Prospect Plantation dates back to the 17 th century and although it's no longer a working plantation your guide will delight you with stories about the colourful history of the estate. You'll be taken on a jitney drawn by a farm tractor on a tour of the estates flora and fauna which includes many trees such as mahogany, blue mahoe, gaungo and dwarf coconut. Crops include lime, coffee and all spice among others. During the tour you'll learn about different fruits found here on the island and May even sample some if you wish. There is a spectacular view of the White River Gorge where Sir Harold Mitchell built Jamaica's first hydroelectric power station. Your ride takes you past the Great House, and can be toured upon request. Optional horseback is available at a cost.
---
 Bamboo Blue Beach

Spend a day with the family on the secluded bamboo blue Beach & grill and enjoy pulsating reggae music,Jamaica's golden sunshine in a hassle free environment. You may also have a fun playing on the beach and enjoying jamaican foods.
At Bammbo Blue Beach you may find and indulge in any of the following activities:-
Volley Ball

Hair Brading

Gift Shop

Beach Chair/Umbrella

Open Grill

Day Beds

Massage Therapy
---
 White River Tubing

Go on the White River and experience our amazing fresh water River rapids. Your Tubing adventure begins about two miles in land. There are changing rooms, bathrooms and life jackets available at the start of your tour. You will pass through seven rapids as you go down stream to the midway stop, where you can drink a cold beer,swim or enjoy a complimentary fruit punch. Bathroom facilities are available as well.
Take in the amazing scenery as you glide through lush tropical greenery as you gently go down the lazy River. You won't forget this journey, at the end of your ride where you may spend a couple minutes shopping for local grafts at the Craft centre.
Our Tubing adventure last for approximately 1hour and15 minutes depending on the time spent at the midway stop. You are provided with two Guides on this tour who lead groups of 5-15 persons at a time. As a rule though we generally provide one guide for every 5 tubes.
It definitely adds that touch of adventure to your spectacular Jamaican experience.
---
 White River Rafting

Enjoy a relaxing leisure ride down the White River, you definately will have a lot to say when you've experienced this!
Your Jamaican River Rafting adventure begins about 2 miles in shore. We have bathrooms & changing rooms available. Life Jackets are also provided at the beginning of the tour. There are two Adults to each 30ft Bamboo Raft (and 1small child) your Raft is guided by our experienced trained and talented captains who will ensure that you have a relaxing, safe and enjoyable cruise down stream.
Your trip down the River goes through 7 rapids a mid way stop where you can swim enjoy a complementary fruit punch or drink a cold beer, bathroom facilities are at this stop as well.
Take in the cool amazing lush tropical greenery and take in the gentle wind in the leaves as you go lazily down the River. This is a journey and sceenary you won't forget. This Jamaican adventure last for approximately 1hr depending on the length of your mid way stop.
---
 Dolphin Cove

Jamaica's number one marine attraction, spend a day at Dplhin Cove and have a fun filed family adventure. You can interact with the Bottle nosed Dolphins, Sting Rays, feed the sharks or other animals on the jungle trail, go snorkeling at the beach, kayaking or have lunch with the pirates. This is a once in a life time family experience.
---
 Mystic Mountain

This is a unique eco freindly attraction which combines forest canopy with a chair lift, bobsled adventure and zipline. This is all in a tropical rain forest setting. The main feature of this attraction is the bobsled ride which is a crazy fun adventure on custom high tech sleds which certainly gives you an adrinaline rush!
---
 Blue Hole & Secret Falls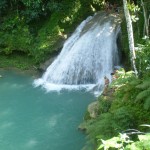 The Blue Hole & Secret Falls is a unique off the beaten track attraction just on the outskirts of Ocho Rios that is unforgettable. It offers swimming and diving in the deep pools, climbing of the falls, climbing behind the falls and so much more.
---
 Duty Free Shopping

The Resort town of Ocho Rios gets the most cruise ships in the Jamaica, as a result we have a variety of gift shops that sell a souvenirs, t-shirts, rum, jewelly and other memories of Jamaica duty free. You have four shopping centres to choose from – The Tajmahal, Island Village, Sonis and Harbour Shops. Within these shopping centres are well know stores such as the Hard Rock Cafe, Harley Davidson Store and Jimmy Buffets Margaritaville to name just a few.